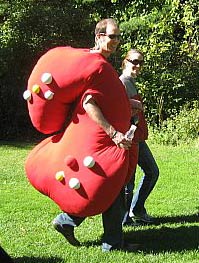 Kenny hasn't forgotten his comrades - those friends and relatives who still struggle with their cysts. So even as he has a good time, Kenny wants to tell the world about
PKD
, the disease that once made him bloated and sad, and made it hard for him to remove toxins from his owner's blood.
PKD
, or
polycystic kidney disease
, continues to make life difficult for Kenny's brother Kevin, who remains inside Kenny's old owner, and for more than a million other American kidneys. Kidneys that grow these cysts, or pockets of fluid, have a much harder time doing their job and when they fail they make their owners very sick.
Kenny wants to bring them some relief. A bunch of
terrific scientists
are studying these cysts, and Kenny wants to help them. Can you please help him? Any amount will help the
scientists & researchers working
to save Kenny's loved ones. And if you'd rather support a different cause, Kenny understands - but maybe you can say hi if you see him, and cheer him on!
About Kenny's Manager
Kenny's manager, Bill Brazell, a member of the
PKD Foundation's Board of Trustees
, ensures that all Kenny-inspired donations go to the
PKD Foundation
, a 501(c)(3) public charity with
top marks
from Charity Navigator, an independent evaluator of nonprofits.
A graduate of Harvard University and U.C. Berkeley's
Graduate School of Journalism
, Bill has worked as a magazine editor (at the Industry Standard) and book editor (at Portfolio, a business-book imprint that is part of the Penguin Group). He was recently the director of author services at
Federated Media
, and is now a consultant for
Etsy
and
WIT Strategy
.
PKD has cast a long shadow over Bill's family. Its complications have killed a number of Bill's relatives, and continue to threaten the lives of many more. Bill has it, too, and doesn't want his own life or anyone else's to be shortened by this obnoxious disease.
"I've known Bill Brazell a long time, and I applaud the innovative approach he's taking to raise awareness of PKD. Plus, Kenny makes me laugh." --
John Battelle
, author of
"The Search,"
founder of
Federated Media
When Kenny's busy hydrating, Bill checks the emails that come in to kenny@kennythekidney.com. He is happy to arrange for Kenny to attend special events whenever possible.